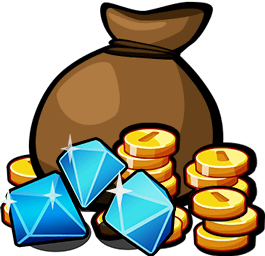 The following table/list shows types of currencies used inside the game Hill Climb Racing 2.
Currency
Image
Use
Notes
Coins

Coins are the primary currency in Hill Climb Racing 2. They are used for purchasing vehicles, vehicle upgrades, upgrading tuning parts and unlocking new adventure maps (if you don't want to reach a certain adventure rank to open an adventure map)
Almost everything in the game will earn you coins. You can also exchange gems for coins in the store.
Gems

Gems are the premium, secondary currency in Hill Climb Racing 2.
Gems can be purchased with real money or earned in-game. You can trade gems for coins in the store as well as use gems to unlock chests faster and speed up the scrapping process. Gems can also be used to purchase event/special adventure maps tickets & challenge retrys.

Note: you can create a team for 100 gems or change the team name for 50 gems.

Scrap

Scrap is used exclusively to craft an upgrade for tuning parts. To craft a tuning part upgrade, you must already have at least one of that part in your inventory and unlock the vehicle that you want upgrade the tuning parts.
Scrap is created by taking unwanted tuning parts and converting them into scrap, which you can then spend on upgrading the parts you do want. Scrap can also be gained from team/public event rewards.
Special Adventure Maps Ticket

One ticket gives you one chance to drive as far as you can in Special adventure map.
You start out with four tickets. These tickets get refilled every 24 hours, after they are all spent. They can also be manually refilled by spending 50 gems for 4 tickets. You can use a Special Ticket for additional runs or watch an ad, when available (skip with VIP).
Event Ticket

Event tickets are used to purchase an attempt in the Public Events.
You are given 4 free tickets per day, and additional tickets can be bought with gems at a cost of 4 tickets for 20 gems. In the Soccer Run Event, you only get 2 tickets, both after waiting for the tickets or purchasing them with 20 gems.
Team Ticket

Team Tickets can only be used to race in Team Events.
Upon starting of your match you will have 2/2 team tickets. These are refilled once every 4 hours, starting the minute of your match. Your refill will delay if you don't use them in that time window.

The only way to obtain these tickets is by waiting for the timer to run down.

Special Ticket

Special tickets can be used as an alternative entry method where a ticket is required.
These are the only alternatives that allow you an entry to Team Events when your "Team Tickets" are all used up (assuming the ad-entry is used) and can be match deciding. You can also use them to retry 1 track in a single run, but keep in mind that the cost of a retry is doubled every time you use it, so the first retry costs 1 ticket, then 2, 4, 8...

In public events you can use 1 special ticket to race once (not refill). The only way to obtain these tickets regularly is by having a team score of 1400+ or sometimes 300+ in a team event match. There are also some Public Events have them as rewards.