Events Tab
The Events tab is located at the top of the main menu. Inside the events tab is an assortment of various social options and gameplay modes.
Public Events are limited time events that offer special challenges, activities & rewards that you may not get elsewhere in Hill Climb Racing 2. These challenges can range from long jump to time attack to seasonal themed celebrations and are unlocked when you reach the rank of silver. Public Events start on Wednesday and end on Monday.
To access the current timed event, tap the icon in the top left inside the "Event"-Tab, event section. This will take you to the event menu. Each event has its own rules and conditions for victory, which will be explained there. If there is a countdown displayed here, it means you need to come back when the countdown is over to play the next event as it begins.
Additionally you can see all previous events when scrolling down in the Events Tab, weekly event section and in the Public Events Archive.
Note: Special time dependant events like Christmas or Halloween last longer than other weekly events. Regularly they last 12 days.

You will be given 4 free Event Tickets every day during the event. Each attempt at an event will cost you a single Event Ticket. When you run out of Event Tickets, you must wait 24 hours for your free tickets to restock, or you can buy additional tickets instantly for 20 gems. The gem cost will always be the same no matter how much time is left before they restock. Since the Team-update, you can also use your special tickets (by running out of Events Tickets) that you receive by scoring Team-points in Team-events. Each special ticket allows you to do only 1 race. Since the Version 1.27 it's also possible to get a free event run by watching an ad (can be skipped with VIP Subscription) once per day.
Note: Once, in the Soccer Run Event, you only got 2/2 tickets, both after waiting 24h for 2 more tickets or purchasing with gems.
After spending a ticket to play an event and participating in the round, you will be given a final score based on your performance against the other participants from around the world. This score will be from 2 to 10, with 2 being the lowest and 10 being the best. After the round, this score will be converted into Event Points. You can see your current amount of Event Points inside the Events Menu. Additionally your points will be doubled when you have VIP Subscription.
Note: If at least two players get the same score in the results they will get the same placement as the first of those with the same score, so there can also be several people getting 10 points in one event room.
During the event, there will be many different rewards (chests, coins, scraps, customizations, etc.), that you can claim once only, visible inside the Events Menu. Each reward can be unlocked once you have accrued the same amount, or higher, of Event Points listed on the reward. If there is a + icon on the rewards, you can tap them to see what they contain. Many event chests contain event exclusive skins, and the seasonal events lasts longer!
To add someone to your friends list you must follow these steps
Navigate to the "Events" tab
Choose the "Friends" section at the bottom left of those 4 buttons
Tap on an Icon with a guy and a "+" next to it in the top right corner.
From the pop-up, you can choose to add your Facebook friends automatically (assuming you have connected your account to your Facebook account) or you can choose to send a link.
If you choose to send a link, the recipient(s) (the person(s) with whom you want to become friends) must then open the friend link in his/her(their) browser, on the device that has Hill Climb Racing 2 installed on it, with his/her(their) own profile active.
For 2 people to become friends with one another, they must both add one another through facebook, or they must both swap their respective friend links.
After you have added someone to your friends list, their name will appear underneath the daily & weekly challenges sections, along with their current top times for those challenges (provided they have completed them). You can tap on their name to see their driver profile. Since the version 1.28.0 you can also see the records of your friends in the different Adventure maps, not only in the friends leaderbords, but also in the adventures on signs where the names of your friends are written at the respective distance.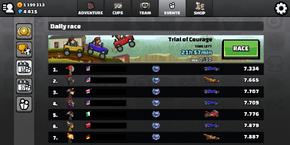 Once every 7 days and every day, a randomly selected single race will be available for you to race against your friends. Your times will be recorded on the friends leaderboard for them to see, and they will race against your ghost. When you race in the daily/weekly challenge you will see 4 ghosts of your friends. One of the ghosts is the player at the top first placement and the remaining 3 are the next best players after you. There is no reward for winning those daily/weekly challenges. Entry is free, and you may make 10 attempts at your run before you must spend 1 gem to buy another 10 retries. This can be done unlimited times, provided you have enough gems. When you beat your personal best on Daily/Weekly Races, that time will be added to your new Personal best.
The challenges menu is located over the friend list button. This contains a list of all of your friend's custom challenges that they have created. To create a custom challenge, choose the "challenge friends" button that appears at the bottom of the screen when you complete / end a run.
Attempting one of these challenges will give you the exact same setup as the person who made the original record. Even if you do not have the vehicles or parts unlocked, you will be allowed to use them for the duration of the challenge.
Playing challenges for the first try is absolutely free, but after the first attempt, you pay one gem per try. Also, you can do this as many times as you want, provided you have enough gems.
Scrolling down from there will show you ghosts of 3 racers, curated by Fingersoft, which everyone in the world can race against.
Challenges can also be played by players that aren't even in your friend list by sending them challenge links. When you create a challenge, you also get the option to share a link to this challenge. To get challenge via a link, you must follow these steps:
Open the game.
Let the game run in the background.
Open the link.
If your device asks which app you want to open the link with, choose Hill Climb Racing 2.
If it doesn't ask which app you want to use and it doesn't open the game, move to Settings > Apps > Hill Climb Racing 2 > Set as default > To supported URL's > Choose the option "Always ask" and try again.
Now the challenge should appear after the game is opened
Then you can play the challenge