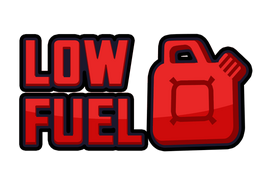 Fuel management plays a key part in the gameplay. As you drive, your fuel gauge will slowly deplete (keep in mind that the vehicles all have different sized fuel tanks). When you run out of fuel, you'll roll to a stop.
The kangaroo setup can help when you run out of fuel, which can allow you to keep driving with Jump Shocks, Landing Boost, and Wings.
The following vehicles' fuel durations and sizes are listed below:
Vehicle Fuel Duration Fuel Tank Size
Hill Climber 40 seconds 200
Scooter 50 seconds 250
Bus 60 seconds 300
Hill Climber Mk. 2 44 seconds 220
Tractor 50 seconds 250
Motocross 42 seconds 210
Dune Buggy 44 seconds 220
Sports Car 38 seconds 190
Monster Truck 45 seconds 225
Rotator 44 seconds 220
Super Diesel 52 seconds 260
Chopper See Table Below
Tank See Table Below
Snowmobile See Table Below
Monowheel 50 seconds 250
Rally Car 40 seconds 200
Formula 30 seconds 150
Racing Truck 50 seconds 250
Hot Rod 30 seconds 150 (Supercharger deducts fuel when held for longer time)
Superbike 30 seconds 150
Supercar 30 seconds 150
Moonlander 50 seconds 250
There are tuning parts, like Afterburner and Thrusters that drain fuel faster, so be careful when using them. Hot Rod also has a supercharger boost that drains fuel extremely fast.
The following Table/List shows the fuel durations of vehicles with upgradeable fuel consumption at every level.
Vehicle
All Fuel Tank levels
1
2
3
4
5
6
7
8
9
10
11
12
13
14
15
16
17
18
19
20
Fuel Duration (in seconds)
38
38.8
39.8
40.8
42
43.2
44.4
45.6
46.4
48
49
50.2
51.2
52.2
53
53.6
54.2
54.6
54.8
55
30
31.5
32.8
34.4
36.2
38
39.8
41.6
43.4
45.2
47
48.6
50.2
51.6
53
54
54.8
55.4
55.8
56
30
31.5
32.8
34.4
36.2
38
39.8
41.6
43.4
45.2
47
48.6
50.2
51.6
53
54
54.8
55.4
55.8
56