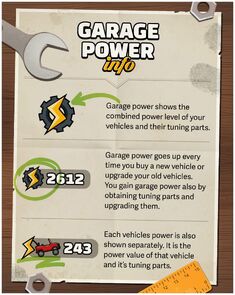 The Garage Power is a display which was added to Hill Climb Racing 2 in the version 1.28.0. It helps you to comprehend your progress in the game.
The total Garage Power is shown in the top right corner of your garage screen.
The entire Garage Power is made of every single vehicle power. It summarizes your whole upgrading progress of the garage. For every one level upgrade you have two more GP (Garage Power).
Currently, the Maximum Garage Power is 9978. If another Tuning Part or Vehicle is released, the maximum Garage Power will increase.
Each vehicle has its own individual vehicle power which Depends on how many parts the vehicle can get and which are not possible to get, it also has a different maximum vehicle power. For example, the Hill Climber Mk. 2, Dune Buggy and Rally Car can't equip a rollcage, and Moonlander can't equip Thrusters because they are already equipped by default and can't be unequipped. There are also some parts that aren't compatible on certain vehicles, which means that for every missing part is less vehicle power. You can increase your Garage Power by purchasing and upgrading vehicles or by collecting and upgrading their tuning parts. When you buy a new vehicle, its power begins automatically at 8 and if you haven't already unlocked some of its tuning parts since all vehicle's features are already upgraded at the 1st level.
Different tuning part rarity gives you different amounts of Garage Power when you upgrading the part.
Note:- Since each vehicle feature upgrade contributes 2 Garage Power, and the max. upgrade for all vehicle features is 20, the GP for maxing one vehicle's feature is 40. Maxing all features on a vehicle is 160 GP. In The list/table below is a list of the amounts of how many Garage Power you get with what rarity of parts.
Here is the table. This is not the max. level description for each part.

| Upgrading 1 Part of rarity | Given amount of Vehicle/Garage Power |
| --- | --- |
| Common | 1 |
| Rare | 2 |
| Epic | 3 |
| Legendary | 4 |
The maximum level for Common is 15, Rare is 10, Epic is 7, and Legendary is 4. Max. Common Parts total 15 GP, Max. Rares total 20 GP, Max. Epics total 21 GP, and Max. Legendaries total 16 GP.